How do I try XStudio?
You need to install one of the 3 variants:
-
Sandalone
if you wish to test alone
-
Our pre-configured VM
(for Virtualbox or VMware) if you wish to test with your team
-
Server
if you wish to also evaluate the instalation on your environment
Note:
If you wish to test with MSSQL, you need to get the Business edition
If you wish to test with Oracle, you need to get the Enterprise edition
If you wish to test with LDAP, you need to get the Enterprise edition
Which edition is the best for me to evaluate?
You can get a description of the various features that are present in each edition
here
How do I get a trial licence?
After you have chosen the edition you want to evaluate, just drop us en email at
sales@xqual.com
Please indicate the number of users you want to try - by default we provide 5 users for one month
We will provide te trial license within half a day.
How do I get assistance to accelarate my evaluation?
You have direct and free access to different ressources:
- An
e-learning
- A
BootStrap
that provides a guide and the import files to load some data avoiding you to type in too many information
- Our 24x7 Self-care service at
helpdesk
- Direct access to our support at
support@xqual.com
After I have evaluated XStudio, can I keep the data I already entered?
YES.
ALl ofthe data are in your Database. You won't have to re-enter them.
Can I change from one edition to another if I decide to?
You can always upgrade or downgrade during or after your evaluation.
Downgrading will reduce the feature set, but you will keep all of your data.
How do I get technical support?
The fastest support is provided through:
- Our 24x7 Self-care service at
helpdesk
- Direct access to our support at
support@xqual.com
If you wish to know more about our support and maintenance contractual conditions, please see
commercial support
Can I get direct support using only emails?
YES. Our ticketing system allows for direct emails. Just send and reply to emails keeping the history.
Your initial email must be sent to our support at
support@xqual.com
How do I know about the lastest changes and if my bug is fixed?
For urgent bugs and evolutions specifically requested and planned, we just alert you directly
But we keep a transparent and as accurate as possible changelog. See
Changelog
Also, you may want to register to our social feeds (see
contacts)
I found a bug. Where can I submit it?
Bugs can be reported through the dedicated
ticketing
.
If you purchased a
Commercial License
, you can directly contact
support@xqual.com
to get a quick answer and/or a bug fix.
In any case, please activate the
traces
and provide these traces, indicate the exact version you're running, the client OS. It's also a good idea to check first the integrity of your database by clicking on the menu item
Tools > Check database integrity
How do I get the log/traces of XStudio?
With the standalone version
of
XStudio
(or any other executable), instead of executing
xstudio.exe
you can start
xstudio_console.exe
. A DOS box will automatically popup and will display the traces.
Increasing the screen buffer size (
Properties > Layout > Screen Buffer Size > Height = 9999
) of the window is a good idea as the default value is pretty small.
With the web package
(VM or server install), you need to activate the java console to see the log:
But the screen buffer size is also pretty small and it's advised activating the tracing so that a trace file is automatically created for you.
To activate the traces:
Windows start menu > Control Panel > Programs > Java > Advanced > Debugging > Enable tracing
Windows start menu > Control Panel > Programs > Java > Advanced > Java Console > Show console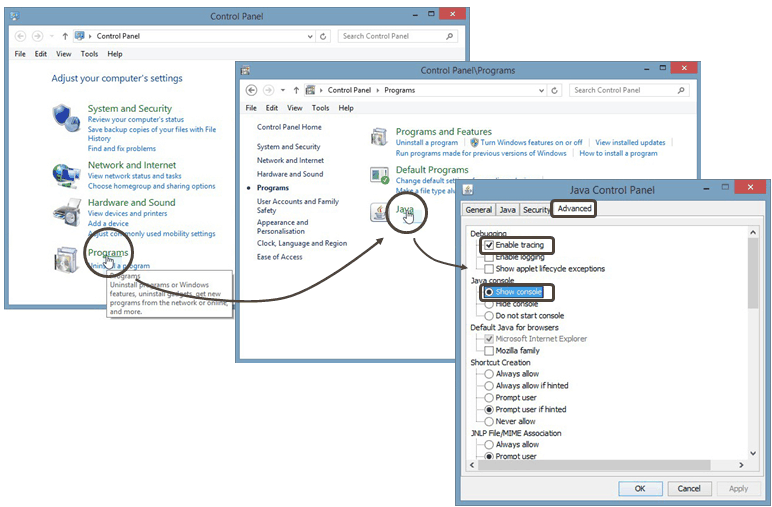 Note:
If in addition you enable the logging feature (available from the same settings panel), the log file is generated in:
| | | |
| --- | --- | --- |
| Windows XP:b> | %HOME%\\Application Data\\Sun\\Java\\Deployment\\log | |
| Windows 10/Windows 8/Windows 7/Vista:b> | %APPDATA%\\..\\LocalLow\\Sun\\Java\\Deployment\\log | |
| Linux/Solaris: | %HOME%/.java/deployment/log | |
The log file name includes random characters and is similar to
javaws1287369374028910351.trace
. Just look at the last updated time to see what is the latest one
I cannot make XStudio work from the web server. What Am I doing wrong?
First thing is to check your firewall authorizes you to connect to outbound port 3306. To verify this, you can run PortQryV2. (it's a free port scanner made available for free by Microsoft) with the following command line
PortQry.exe -n <server name or IP address> -e 3306.
If you firewall is correctly configured you should get an output similar to:




c:\PortQryV2>PortQry.exe -n 176.58.90.219 -e 3306
Querying target system called:
176.58.90.219
Attempting to resolve IP address to a name...
IP address resolved to xqual7.xqual.com
querying...
TCP port 3306 (unknown service): LISTENING




Alternatively, you can also use the command telnet <server name or IP address> 3306. If you get garbage characters it means the firewall is ok.



Check in the xstudio.conf file that you're using a real resolvable name or a valid IP address for the database_server parameter. Do NOT use localhost or 127.0.0.1


Check that the database_server parameter in xstudio.conf and the codebase attribute in xstudio.jnlp are identical.


Check you do not have extra leading or ending space in the parameter's values in xstudio.conf


If the standalone version works fine (you can start

XStudio

, login and use it), you can:


Copy xstudio.conf to your web server install (overwrite the default one in the bin directory)
Copy the JDBC driver you're using in the standalone version to the web server as well (in bin/jdbc directory)




This can be due to one or several corrupted packages (i.e. because of a network failure during the download), so you can try to clear the Java cache to force the system to download all the resources again:
Windows start menu > Control Panel > Programs > Java > General > Temporary Internet Files > View...
Select "Applications" in the "Show" drop-down menu, select all the XStudio instances, delete them
Select "Resources"in the "Show" drop-down menu, select everything and delete
Restart

XStudio

normally...


In some cases, this may be due to DNS issues. Of course the proper solution is to fix the problem on your company DNS server but a workaround is to insert the server name into your local /etc/hosts (on linux) or %systemroot%\system32\drivers\etc\hosts(on Windows) file.


It can also be due to networking issue. One thing people sometimes need to do is to change the network settings of their Java client:
Windows start menu > Control Panel > Programs > Java > General > Network Settings > Network Settings....
It may be needed to select Direct Connection instead of Use Browser Settings or vice-versa. In some other cases, it may be necessary to set the company proxy settings manually.


If your client computer does not have much RAM you can reduce the maximum heap size in the JNLP configuration on the server.
Edit xstudio.jnlp and lower the max-heap-size value. i.e. max-heap-size="512m".


In some computers, JNLP may prefer to use the IPv4 stack to communicate with the server. You can try to edit xstudio.jnlp and set the java.net.preferIPv4Stack to true. i.e. your j2se parameter may look like: j2se version="1.7" href="http://java.sun.com/products/autodl/j2se" java-vm args="-Djava.net.preferIPv4Stack=true".


You may also try to uninstall your jre and reinstall it from http://www.java.com.


The instructions related to
xstudio.conf
are also valid for
bugtracking.conf
.
XStudio is not yet localized for my language
It is very easy to localize
XStudio
. There is a quite simple procedure to add a custom localization described
here
.
I can't upload files bigger than 1MByte. Why that?
MySql default configuration prevents from uploading files bigger than 1MByte.
In this case you may encounter errors such as:
java.sql.SQLNonTransientConnectionException: Could not send query: Connection reset by peer: socket write error
or similar.
To change this, edit the file
my.ini
and add the configuration parameter
max_allowed_packet=100M
in the
[mysqld]
section.
Where are my attachments downloaded?
When you click on the
download
or
download and lock
button, the files are download in your system temporary directory. On windows, it is often located in
C:\\Documents and Settings\\<your account>\\Local Settings\Temp\\
(this is specified in the
%TEMP%
or
%TMP%
varibale)
Why couldn't I connect to the server?
If your network use a proxy to connect to the internet, you need to set this up as well for Java:
Windows start menu > Control Panel > Programs > Java > General > Network settings > Network Settings...
Why after I updated then rollbacked, I do not see the original version of my web xstudio?
The Java cache is the cause and you need to clear the cache:
Windows start menu > Control Panel > Programs > Java > General > Temporary Internet Files > View...
Select
"Applications"
in the "Show" drop-down menu, select all the
XStudio
instances, delete them
Select
"Resources"
in the "Show" drop-down menu, select everything and delete
Restart
XStudio
normally...
Is there any way to speed up the startup time of XStudio?
Yes there is. If you have a large number of tests/test cases and you use the test procedures, you can disable the Testplan Autocompletion feature (from the settings). This will speedup considerably the startup time.
I lost my admin password and do not have any other account with admin right. How can I recover my password?
You can't do it from XStudio (hopefully or it would be a major security hole!).
You need to ask your database administrator to manually update the column
user_password
of the user
admin
in the table
table_user
with the value:
984F1197F84B21DDA2A631F72F9D082501B4FA1AA3798DC420A26ADE0B8792504325EBD701
.
This procedure restores the default admin password:
password
.
How do I enable Java in my browser?
If you recently installed Java, you may need to restart your browser (close all browser windows and re-open), in order for the browser to recognize the installation.
In addition, make sure Java content in the browser is enabled
through the Java Control Panel
.
br/> Follow these instructions to enable Java
though your Web browser
.
Internet Explorer
Click Tools and then Internet Options
Select the Security tab, and select the Custom Level button
Scroll down to Scripting of Java applets
Make sure the Enable radio button is checked
Click OK to save your preference
Chrome
Enter about:plugins in the search field.
In the Plug-ins list, look for Java and check whether Java is enabled (if the Disable link appears, Java is already enabled)
Click on the Enable link (if available)
(Optional) Check the Always allowed box to stop additional Chrome warnings when running Java content
WARNING:
Starting with Chrome version 42 (released April 2015), Chrome has disabled the standard way in which browsers support plugins.
More information
here
.
Firefox
Open the Firefox browser or restart it, if it is already running
From the Firefox menu, select Tools, then click the Add-ons option
In the Add-ons Manager window, select Plugins
Click Java (TM) Platform plugin (Windows) or Java Applet Plug-in (Mac OS X) to select it
Check that the option selected is Ask to Activate or Always Activate or on older Firefox versions, click on the Enable button (if the button says Disable, Java is already enabled)
Safari
Click on Safari and select Preferences
Choose the Security option
Select Allow Plug-ins, then click on Manage Website Settings
Click on the Java item, select an option (Ask, Allow or Allow Always) from the pulldown list When visiting other websites
Click Done, then close the Safari Preferences window
Opera 4.x and Up
Opera for Windows does not use Java, but an embedded version already inside the Opera Web browser.
Opera for other platforms may supports Java . Please consult your Opera platform documentation.
For further information, please review the following Opera Support article:
Support for Java software in Opera